indueD helps you stay away from fraudsters and money launderers
Master compliance complexity
as a pro
Screen companies included their subsidiaries
Establish UBOs and other financials
Everything in one easy-to-use tool
indueD provides due diligence information for a watertight and efficient compliance process
The most complete data for thorough checks
Our database provides information and analytical insights about companies, corporate structures, and ultimate beneficial owners (UBO), enabling your organization to be better informed, quick to respond, and prepared for regulatory oversight.
Don't let complex compliance processes get in the way of growing your business. By monitoring data and insights on a global scale, you'll gain deep insight into the companies you want to do business with or avoid.
Protect your organization from hidden risks by mapping trading partners and their indirect relationships. Avoid unnecessary fines, reputational damage and comply with laws and regulations with proven time savings of 75%.
Uncovering Ultimate Beneficial Ownership (UBO) can be challenging without a consistent, fast, accurate and global data source. Altares Dun & Bradstreet is the only data provider that can link companies, stakeholders and directors worldwide to unravel complex corporate structures.
Discover how indueD works
Manage risk in today's regulatory environment.
indueD provides a complete, customizable solution that allows you to manage risk within prevailing laws and regulations.
What can you expect from indueD?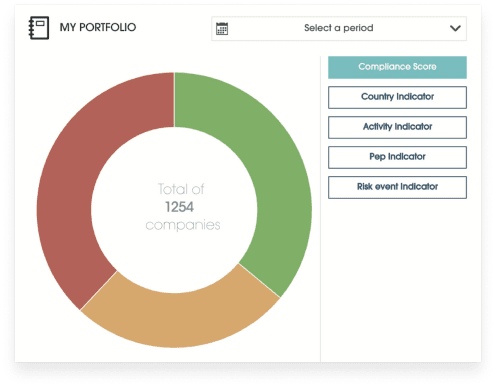 Work with the speed of light, in what's probably world's most disruptive webbased compliance solution on the market.
Optimized dashboards and graphs to help you better monitor in one view
Lightning fast, intuitive and user-friendly UI for the best user experience
Fully compatible with all modern browsers
Use it on every device 
Mange your portfolio with ease
Keep track of all your business relationships and recognize risk at-a-glance.
Import your entire portfolio at the touch of a button via .csv or .xls
Use advanced smart filtering and triggers to ensure effective, bespoke screening
Easily track the status of the end-to-end screening process
Use risk indicators to quickly distinguish between high-risk and non-risk business relations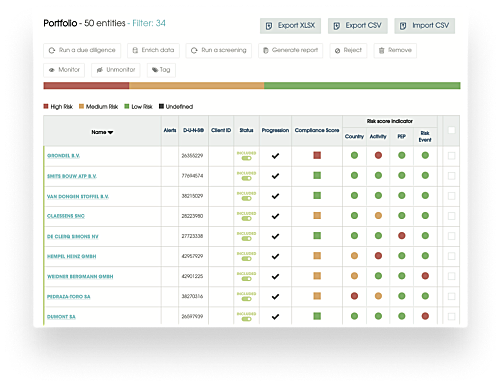 Please contact us for a demo. We are happy to show you everything D&B Market Insight has to offer.

Screening with the speed of light
Start your due diligence at the touch of a button. Screen just a single entity. Or run hundreds or even thousands of business relationships all at once. No limits.
Instant screening
Customize your own Compliance Score with your own compliance policy risk profiles;
Launch your KYC/KYV screening through mass processing of your files
Automated enrichment of Beneficial Ownership records; 
Global data coverage with +320 million company records, +100 million UBO's, 1.5 million PEP's, 700 black lists, sanction lists and more;
Ensures compliance with anti-bribery/anti-corruption, sanctions, anti-money laundering, and other regulations.
False Positive Management has never been easier
Identify similar names and confirm the persons identified to ensure a more accurate KYC score.
Integrated advanced False Positive processing
Save precious time: receive an alert once your false-positive processing is complete
False positive analysis is automatically included in indueD. All you have to do is generate the report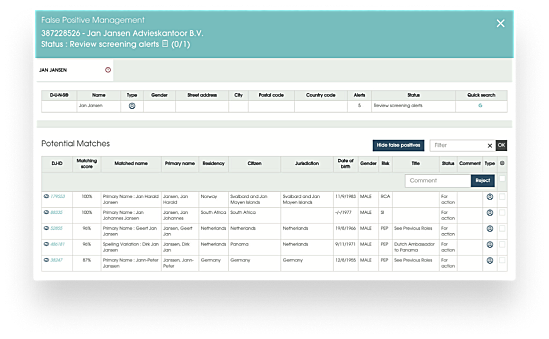 To comply with your unique set of compliance regulations the reporting options will help you make the effort. Export, share and save in one click!
Export your indueD portfolio to an Excel spreadsheet for an in-depth analysis
Downloadable KYC reports for optimized archiving and sharing
With our compliance platform indueD
we help you grow without taking on more risk or compromising on quality.
Use indued Workflow for collaboration
IndueD workflow is optimized for greater sharing and efficiency, including notifications.
Get a complete, practical and consolidated real-time overview of the entire portfolio
Find out which analysts are working on particular projects


Powerful Portfolio Monitoring
As a Compliance Manager you already have your hands full. Let us help you. Use our monitoring and spot changes in your portfolio in a blink of an eye.
Indicate which business relationships you want to monitor continuously
Receive alerts every time there is a change in your KYC environment
Never worry whether your information is not up-to-date
Save time and money: keep focusing on the things that matter
Do you like to know more about indueD?
Please contact us to schedule for a demo of direct your questions to of our specialist.
What can we help you with?