Get a Dun & Bradstreet Business Information Report
Are you looking for information about a (potential) customer or supplier? Request a Dun & Bradstreet Business Information Report here to see what the financial situation and payment behavior is.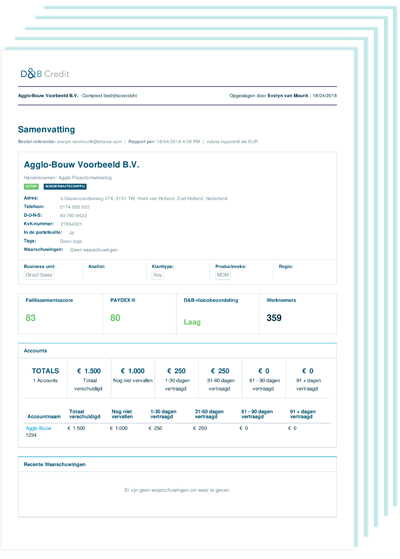 Check the creditworthiness of your business relations
The Altares – Dun & Bradstreet company (credit) reports help to make daily credit decisions, analyze the financial strength of a company and discover commercial opportunities.
The company (credit) reports contain the most up-to-date information, through the direct link with 30,000 data sources and makes a clear translation to risk assessment.
Find out what the D&B Rating & Scores say about a company
Curious about how we calculate our scores? How you can interpret the Rating & Scores? We analyse enormous amounts of data on a daily basis. Using built-in algorithms, we arrive at a rating, bankruptcy score and Paydex. This rating and scores say a lot about the financial health of an organization.
Want to make more use of credit reports within your organization?
In addition to the possibility of applying for company reports within the BeNeLux, it is also possible to request reports from company's outside the BeNeLux through the international database of Altares – Dun & amp; Bradstreet.
D&B Direct+ Data Blocks lets you choose which of our data you want to link to your own systems, such as your CRM or ERP. For example, you can link our credit risk data to your customer data in your CRM. This way you always have up-to-date and validated credit risk data about customers and suppliers at hand.
What can we help you with?