Check the creditworthiness of your business relations
Check de kredietwaardigheid van bedrijven met onze data
Elke dag verzamelen, analyseren en structureren we enorme hoeveelheden financiële data. Dankzij onze gepatenteerde kwaliteitsprocessen en slimme algoritmen kunnen we je informeren over de kredietwaardigheid van je klant, prospect, partner of leverancier.
Although each market worldwide has its own risk scores and ratings, Overall Business Risk uses data available locally to create a globally consistent picture that can be used to compare companies in different countries.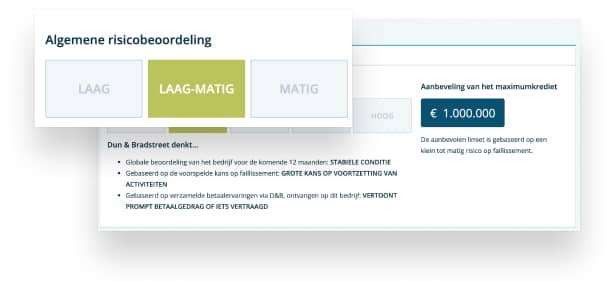 Feiten over onze credit risk data
Daily updated data elements
Je kan meer met onze credit risk data
Unravel corporate family structures
Met de Dun & Bradstreet Family Tree ontdek je de kredietwaardigheid binnen een bedrijfsstructuur (zoals entiteiten, hoofdkantoren, lokale vestigingen, etc.) 
Visualize the subsidiaries and branch locations within a corporate entity 
Discover total risk in a corporate family and therefore better manage the portfolio
Assess the size of the company and possible conflicts of interest
Accurately report on larger suppliers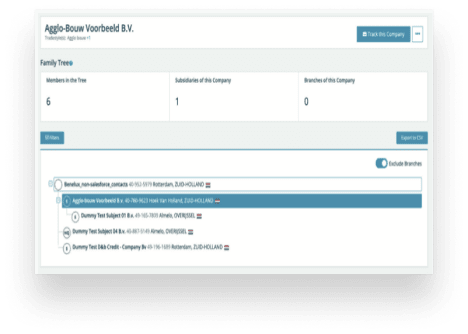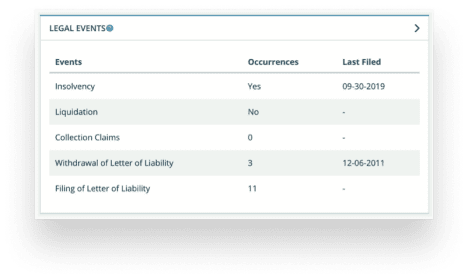 Past and present legal activities can impact a company's financial stability and operations. Here you'll discover lawsuits and resulting court rulings. Dun & Bradstreet is the only credit data provider that offers lawsuit data at an earlier stage.
Examples of legal activities that could affect your business include:
Insolvency events (such as administration, receivership and bankruptcy)
Court rulings
Other public filings
Ongelimiteerd de kredietwaardigheid checken?
Met D&B Credit check je ongelimiteerd de kredietwaardigheid van 400+ miljoen bedrijven wereldwijd.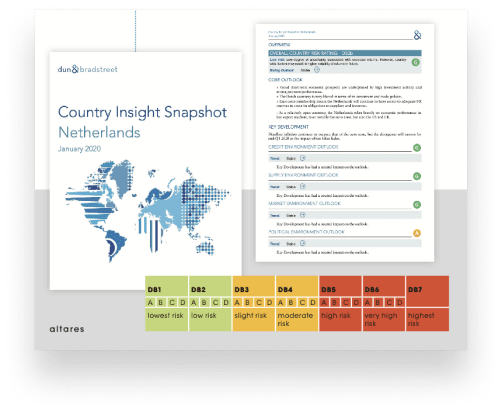 Consult Country Intelligence expertise
Dun & Bradstreet Country Insight Services provides you with the information, insight and expert recommendations to identify opportunities and risks whilst doing business across the globe.
Easily download a single country snapshot or full report within D&B Credit
Assess information about 132 countries
Use the Country Risk Indicator for a comparative cross-border assessment, ranging from DB1 through DB7, where 7 has the highest risk
Make safe decisions with AAA – the most well-known rating model on the market
Kredietwaardigheid checken in je CRM of ERP
Met onze API transformeer je de manier waarop je zakendoet. Je connect risico- en financiële gegevens in de toepassingen waar je ze het meest nodig hebt. Bied je teams data & inzichten die ze nodig hebben om de kwaliteit en snelheid van besluitvorming te verbeteren en zo betere bedrijfsresultaten te behalen.
Werk via je CRM of ERP met onze kredietrisicodata en inzichten
Improve cash flow by reducing credit risk and identifying opportunities across the credit portfolio 
Synchronize the flow of information across all your financial systems for better & faster decisions
Automate decisions to manage risk, receivables, and collection priorities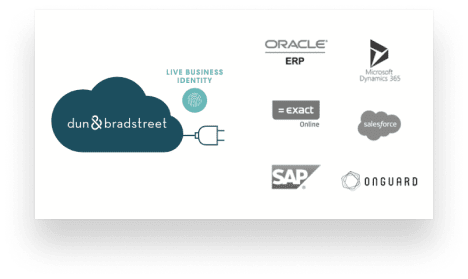 Laatbetalers en wanbetalers voorkomen
Laatbetalers en wanbetalers: niemand wil ze, bijna iedereen heeft ze. Als organisatie zit je hier niet op te wachten, want dit kan in het ergste geval de bedrijfsvoering van jouw organisatie belemmeren. Vijf concrete tips voor een snelle betaling.
Pdf van 10 pagina's, 0,2 MB
Waarom credit risk data van Altares Dun & Bradstreet?
What can we help you with?