Today they face each other for the sixth time at a major tournament: France and Germany. Both countries are considered superpowers in the world of soccer, as well as in the world of business. In the EK battle, Germany won the championship several times before. Along with Spain, they are record holders with 3 EC wins on the counter. France has been allowed to call itself European champion twice before and is therefore a worthy opponent.
How both countries will do in this Euro's, we leave to the sports experts. But how are France and Germany doing as a country? Our data experts dove into the figures for you and present the most important insights.
France & Germany: combatants on the field, partners in the EU
France has the largest surface area of any country in Western Europe. Its largest neighbor and immediately most important partner for trade and foreign policy is Germany: these two founding members of the EU have long been the driving force behind European unification. Looking at the current status of both countries, we give them a Country Risk Rating of DB2c, which means that they are in a stable position. Our Risk Rating consists of a scale of 7 ranges: DB1 through DB7. These 7 sections are in turn split into 4 quarters (a, b, c and d), with a being considered best.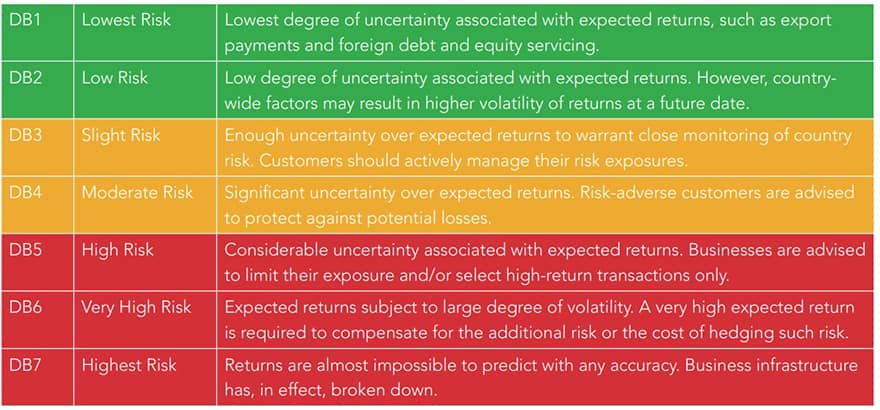 France: World leaders in business
Economically, France is a prosperous country with a large industrial base, significant agricultural resources and a highly educated workforce. Productivity is high by international standards and many large French companies are world leaders in their respective markets. The state plays an influential role in the economy, reflected in extensive public services, a strong social safety net and world-class infrastructure.
Germany: The heart of Europe
Germany is located in the center of Europe, with access to the North Sea and the Baltic Sea, and borders nine other countries. As the most populous country - and with the largest economy - in Western Europe, Germany is an important member of the EU.
Although the service sector accounts for more than two-thirds of output, the economy is driven by export-oriented manufacturing. Its position as the world's second largest exporter of goods has left Germany vulnerable to fluctuations in global demand.
Altares Dun & Bradstreet: your data partner
In an ever-changing global landscape, it is increasingly important for the modern financial professional to also consider country risk. Altares Dun & Bradstreet offers country reports with valuable information on 132 countries around the world.
These reports include, for example, a Country Risk Rating that indicates the general state of the country, but also contain extensive economic analyses on the macro economic developments in the country. With the insights from these reports, you are optimally prepared for a collaboration with a foreign party. Want more information? Please contact us.